Buying and trading cryptocurrencies requires choosing the right exchange platform. With security, fees, features, and user experience playing key roles, making an informed decision is important. This comparison analyzes two popular options – eToro vs Uphold – to help determine the superior platform based on individual needs.
Summary
After an in-depth analysis of their offerings, we find Uphold to have a slight edge overall against eToro. Uphold obtains our highest rating of 5/5 for its wider crypto selection, easy-to-use interface, and additional perks like debit card access.
Users praise Uphold's simplicity and easy swaps between coins. eToro communities focus on social features and copy trading. Complaints for each involve occasional funding/withdrawal delays and customer service bottlenecks during busy periods.
While eToro remains competitive with a reliable wallet and diverse fiat funding options, Uphold's ability to instantly swap between all supported assets on a single page provides significant convenience. New users seeking the most feature-rich exchange overall may prefer Uphold.
Platform Details
eToro
Our rating: ★★★★☆
Founded in 2007, eToro is a well-established social trading platform allowing users to buy and sell crypto, stocks, and commodities. It also offers the unique feature of copy trading to replicate positions of expert investors.
Uphold
Our rating: ★★★★★
Uphold was founded in 2013 as a digital money platform supporting various blockchain assets and traditional currencies. It aims to simplify financial services with easy money swaps between all integrated assets via crypto exchanges, debit cards, remittances, and bank accounts.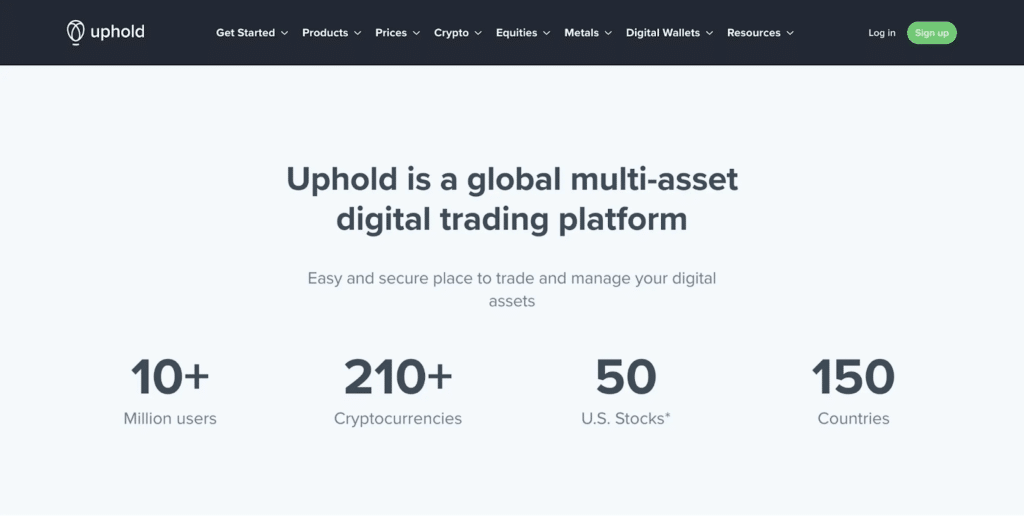 Feature Comparison: eToro vs Uphold
This table provides a comprehensive comparison of eToro and Uphold, highlighting their supported assets, trading pairs, fiat support, fees, wallets, ease of use, and an overall conclusion.
| | | |
| --- | --- | --- |
| Key Offerings | eToro | Uphold |
| Supported Assets | 80 cryptocurrencies | 241 cryptocurrencies |
| | Major coins like BTC, ETH, XRP, and USDT | Major coins like BTC, ETH, XRP, and USDT |
| Trading Pairs | Separate crypto and commodities/stocks pages | Ability to swap any two supported assets on a single page |
| Fiat Support | Accepts USD, EUR, and GBP deposits | Accepts USD, EUR, and GBP deposits |
| | 6 supported fiat currencies | 27 supported fiat currencies |
| | Offers PayPal/Skrill for fiat funding | – |
| Fees | 1% spread on standard eToro trades | 0.8-1.2% spreads and $0.99 fixed fees under $500 on Uphold |
| | 0.05% maker/taker fees on eToroX | Generally, eToro offers lower fees |
| Wallets | Proprietary wallet for 8 cryptos on/off exchange | Only offers an exchange wallet with better security and insured funds |
| Ease of Use | Navigation between separate pages for assets | Single, intuitive trading page for quick asset swaps |
| Conclusion | Competitive on essential metrics like security and support | Offers more features overall, with better user experience and flexibility |
Fee Structure Comparison: eToro vs Uphold
Analyzing the costs associated with each platform:
eToro Fees
No deposit fees for bank transfers or debit/credit cards (3.99% fee)
Trading spread of 1% for cryptocurrencies
Free withdrawals to bank or eToro Money wallet
Uphold Fees
Deposit fees for credit/debit cards range from 0-3% depending on payment method
Trading spread ranges from 0.8-1.2% for cryptocurrencies
Withdrawal fees vary from 0-3% depending on method
Fixed $0.99 fee for trades under $500
Overall eToro is cheaper for trading and withdrawals while Uphold has slightly lower deposit costs. Both incorporate competitive fee structures within the industry. New traders should also factor in platform and exchange fees when analyzing total costs.
Security and Regulation Comparison: eToro vs Uphold
Ensuring funds and data remain protected should be top priority when choosing an exchange. Here's how eToro and Uphold stack up:
eToro Security
Encrypted servers and 2-factor authentication
Insured for up to $1 million through Lloyd's of London
Regulated by CySEC, FCA and other major financial watchdogs
Uphold Security
Military-grade encrypted cloud infrastructure
Insurance fund and reserves backing all customer balances
Bug bounty program and regular third-party security audits
Regulated in the US by money transmitter licenses in 49 states
Both maintain industry-standard security measures and insurance on customer funds. Uphold leads with its transparent insurance model and ongoing security review process. Regulations provide additional assurance for either platform depending on a trader's location.
Customer Support Comparison: eToro vs Uphold
Assistance should be readily available when issues arise:
eToro Support
Multiple methods including live chat, phone, email and online help center
Agents available 24/7 and support over 10 languages
Response times generally under 30 minutes
Uphold Support
Support portal and live chat assistance available 24/7
Agents help users in English, Spanish, Portuguese, French, and German
Phone support business hours on weekdays and response times usually less than an hour
Both exchanges provide reliable multilingual support globally. While eToro may have a slight edge in availability through its phone support, Uphold's generally fast response times still place it among top crypto exchanges for customer care quality.
Mobile App Comparison: eToro vs Uphold
Crypto on-the-go is best with quality dedicated apps:
eToro App
Available for iOS and Android
4.3/5 star rating on App Store with over 1M downloads
Allows full trading functionality and watchlist sync with desktop
Uphold App
Cross-platform iOS and Android compatibility
4.5/5 star rating on Play Store with over 10M downloads
Sleek interface optimized for trading, transfers and balances on mobile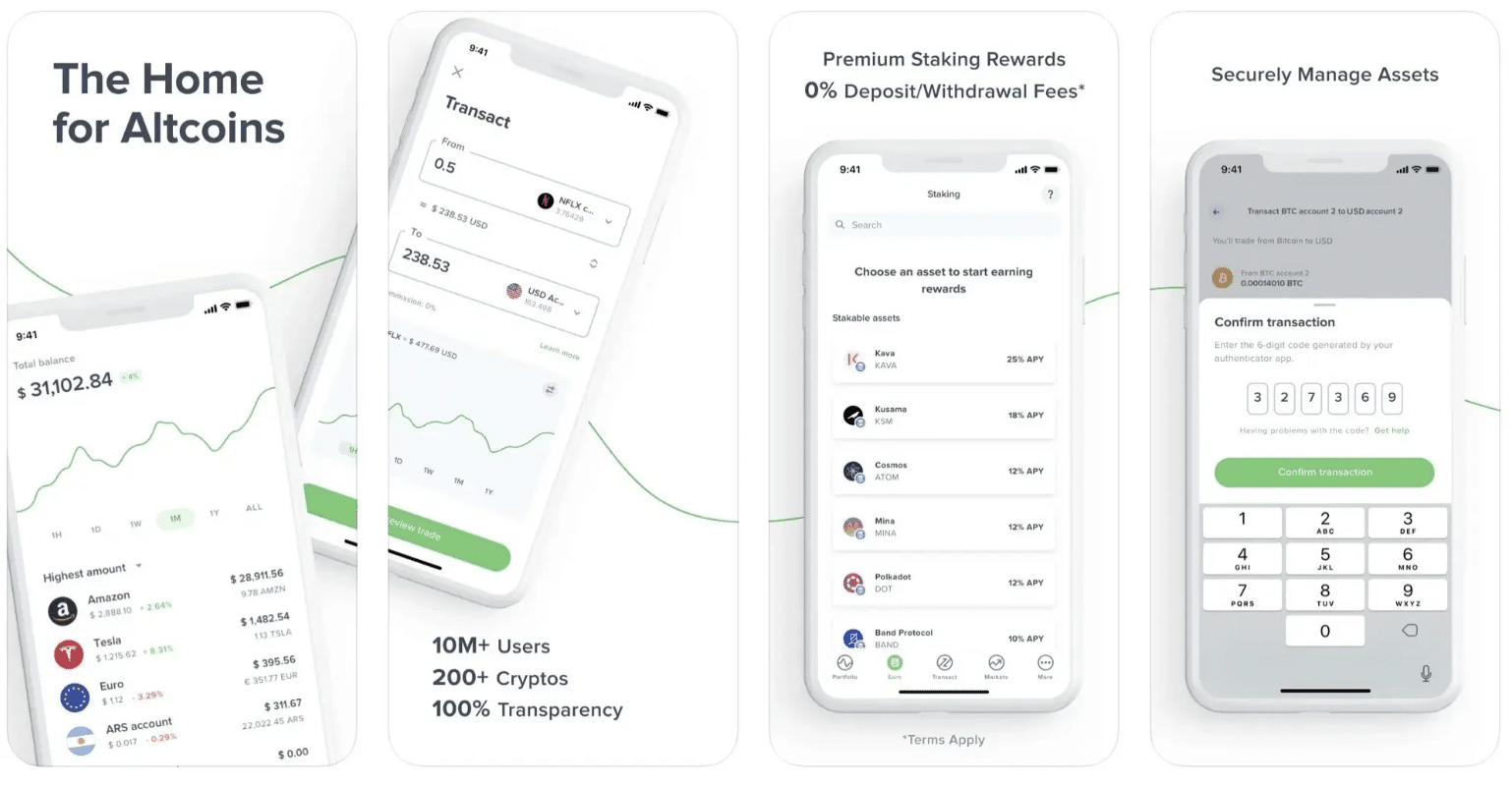 The Uphold app takes the lead with its simplicity and excellent reviews on both major app stores. Both apps effectively port over full exchange functionality for uninterrupted trading from anywhere.
Supported Countries: eToro vs Uphold
Global accessibility helps maximize an exchange's potential user base:
eToro – Available in over 100 countries worldwide including the US, Canada, UK, Europe, and others.
Uphold – Operates in over 175 countries globally with licenses to serve markets across Europe, Asia, Africa, North and South America.
While eToro covers major regions, Uphold gives users in more countries access to its feature-rich platform and services through wider international coverage.
User Experience Comparison: eToro vs Uphold
Evaluate the platforms from a user's perspective:
eToro Interface
Separate areas for crypto, stocks and other assets can be cluttered
Educational content and courses for new traders are useful
Uphold Interface
Intuitive single page interface optimized for trading all assets seamlessly
Videos, guides and FAQs provide help for both beginners and experts
Both aim to be beginner-friendly, though Uphold streamlines the experience further with its smooth unified design. eToro offers strong educational resources.
Conclusion

Whether a seasoned crypto trader or someone just starting out, finding the exchange that aligns with your needs and budget is key to a positive experience. While eToro remains popular for its social functionality and diverse payment options, Uphold provides a slightly more full-featured platform through its wider asset selection and unrestricted swap functionality. For those seeking the most flexible and straightforward trading experience, Uphold appears to be the optimal choice.
FAQs

Is Uphold a good exchange?
Overall Uphold is rated highly for its ease of use, security measures and wide variety of services beyond just exchanging cryptocurrencies. Its competitive fees and simple interface make it a top choice for beginners and experienced traders alike.
Is Uphold safe for XRP?
Yes, Uphold is considered safe for buying, selling and storing XRP (Ripple). It has not encountered any compromises involving customer XRP balances and adheres to standard security practices for crypto exchanges.
Is eToro best for crypto?
While eToro excels for social trading features and diverse fiat funding options, other platforms may be better depending on needs. eToro levies higher fees on basic crypto trades compared to competitors like Coinbase or Uphold which offer superior interfaces optimized for digital assets.
What is the downside to eToro?
Potential downsides include eToro's higher crypto fees without advanced trading, occasional payment processing delays, and a more complex user experience versus competitors through separate trading areas for stocks and cryptos. Users seeking streamlined crypto functionality may prefer alternatives.