Litecoin cannot directly be added to MetaMask due to differences in blockchain models between LTC and Ethereum. In this guide, we will explain why you cannot add Litecoin to MetaMask, discuss alternatives, and provide a step-by-step process for using Trust Wallet as a viable solution.
TL;DR
The best way to add Litecoin if you use MetaMask is to install the Trust Wallet app on your mobile device. Follow the simple steps outlined in this guide to set up your Trust Wallet, then transfer LTC to your Litecoin receive address in the app.
Trust Wallet Overview
Trust Wallet is a popular cryptocurrency wallet that serves as a viable alternative to MetaMask for Litecoin users. It currently has over 60 million active users and supports multiple networks beyond just Litecoin, including Ethereum, BNB Chain, and over 50 others. Some key features include:

Non-custodial control: You maintain private keys and full control over your funds.
Cross-platform compatibility: Available as a mobile app for Android and iOS.
Seamless blockchain integration: Effortlessly receive, send and store LTC and other coins.
Great reviews: Rated 4.5/5 by Datawallet for its intuitive interface and reliability.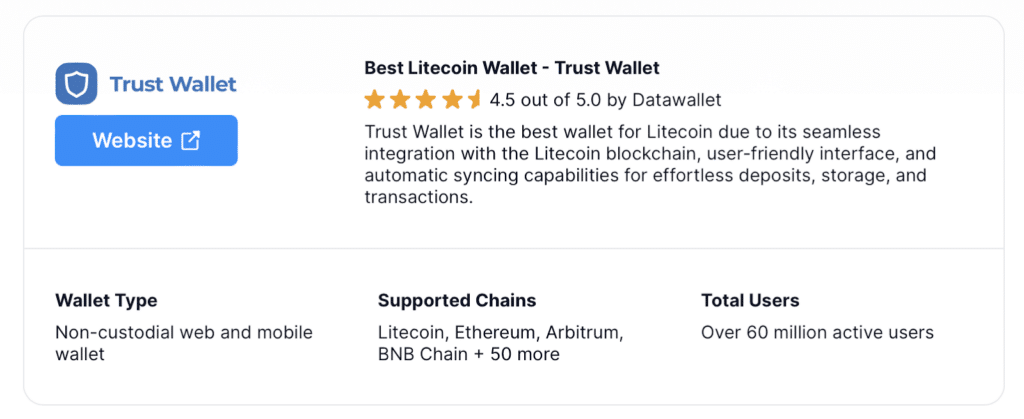 How to Install Trust Wallet for Litecoin
Here is a simple step-by-step guide to install Trust Wallet and add Litecoin:
Download Trust Wallet: Go to the official website and download the mobile app.
Create your wallet: Open the app and set up a secure password for your new wallet.
Save your recovery phrase: Your 12-word recovery phrase acts as a backup for your wallet. Store it securely.
Add Litecoin: Click on the menu bar, select "Assets", search for LTC, and enable it.
Get your LTC address: Click on Litecoin to see your LTC receive address.
Transfer Litecoin: Send LTC from your preferred exchange to your Trust Wallet LTC address.
Begin using Litecoin: Your LTC balance will update, and you can now send/receive LTC seamlessly via Trust Wallet.
What is Litecoin?
Litecoin is a blockchain network founded in 2011 with the goal of being "digital silver" to Bitcoin's "digital gold." It is a fork of the Bitcoin protocol and shares many similarities, but with some key differences:
Faster transactions: Litecoin blocks are generated every 2.5 minutes vs 10 minutes for Bitcoin, resulting in quicker confirmations.
Higher supply: There will only ever be 84 million LTC mined compared to 21 million bitcoins.
Advanced hashing algorithm: Litecoin uses the memory-intensive Scrypt proof-of-work function making it resistant to ASIC miners.
Litecoin serves as a faster and more abundant digital currency, aiming to be easier to use for smaller transactions than Bitcoin. However, it remains solely a payments network without smart contract functionality.
Litecoin vs Ethereum
The key divergence between Litecoin and Ethereum that makes LTC incompatible with MetaMask is their different blockchain models:
Consensus mechanism: Litecoin uses proof-of-work mining while Ethereum is transitioning to proof-of-stake.
Virtual machine: The Ethereum Virtual Machine (EVM) enables smart contracts on Ethereum but Litecoin only supports basic transactions.
Forking: Litecoin originated as a fork of Bitcoin while Ethereum was launched as an independent project.
So in summary, while Litecoin focuses on peer-to-peer digital payments, Ethereum provides a platform for decentralized applications (dapps) through the EVM—making MetaMask well-suited for Ethereum-based tokens only.
Popular Litecoin Applications
Some applications leveraging the Litecoin blockchain for payments and services include:
BitPay: Supports merchants accepting LTC as a payment option integrated with over 50K merchants globally.
Lumens: Enables merchant point-of-sale payments via a mobile app with instant LTC conversion to fiat.
Atomic Wallet: A multicurrency non-custodial wallet for desktop supporting LTC storage and exchanges.
LitePal: A Litecoin payment gateway helping merchants easily accept LTC payments online and in stores.
While Litecoin itself does not support smart contracts, these applications demonstrate LTC's real-world use for transactions, purchases and payments.
Conclusion
In summary, while MetaMask cannot hold Litecoin due to differing blockchain models, Trust Wallet provides Litecoin users with a great alternative. It offers a smooth experience to receive, store, and transact LTC, removing compatibility issues. Download Trust Wallet on mobile today to easily store and use Litecoin through its intuitive interface. Ensure to keep your recovery phrase safe as with any non-custodial wallet.