Transferring cryptocurrencies between different exchanges can be a valuable tool for cryptocurrency traders looking to diversify their portfolios, explore new markets, or take advantage of price differences. One such transfer you may consider is moving Bitcoin from GDAX, now known as Coinbase Pro, to Bittrex. Both exchanges offer a versatile trading platform with different features and options to suit varying user needs.
GDAX, or Coinbase Pro, is a popular cryptocurrency exchange known for its accessibility, user-friendly interface, and competitive fees. On the other hand, Bittrex provides a wide range of altcoins with hundreds of supported cryptocurrencies, making it an attractive option for those seeking more diversity in their trading opportunities. This guide will walk you through the steps to transfer your Bitcoin from GDAX to Bittrex, enabling you to explore the unique benefits each platform has to offer.
Key Takeaways
Transferring Bitcoin between GDAX (Coinbase Pro) and Bittrex provides access to unique feature sets and diverse trading opportunities.
The process is simple, requiring your Bittrex wallet address, GDAX account number, and the amount you'd like to transfer.
When transferring cryptocurrencies, be cautious of scams and fraud, and ensure you verify all necessary information before initiating a transaction.
Read More: How to Trace Bitcoin Address&Wallets Owners
What Is GDAX?
GDAX, or Global Digital Asset Exchange, is a reputable and secure cryptocurrency exchange platform that allows you to trade various digital assets like Bitcoin, Ethereum, and Litecoin. As a trader, you can benefit from the company's advanced trading features and low transaction fees.
When you use GDAX, you can be confident in knowing that your funds and personal information are well-protected. GDAX is owned and operated by Coinbase, a leading and well-established cryptocurrency company. This connection provides you with a seamless way to transfer funds between your Coinbase and GDAX accounts.
On the GDAX platform, you can trade several digital currencies like Bitcoin (BTC), Ethereum (ETH), and Litecoin (LTC) with various fiat currencies such as USD, EUR, and GBP. This flexibility gives you an excellent opportunity to diversify your cryptocurrency portfolio and mitigate risks associated with volatile market fluctuations.
To start trading on GDAX, you'll need to create an account and complete the required identity verification process. Once your account is set up, you can deposit funds from your bank account or cryptocurrency wallet. After that, you can instantly begin trading on the platform using various order types, such as market, limit, and stop orders.
In summary, GDAX offers a user-friendly and secure environment for trading popular cryptocurrencies. With its advanced features and low fees, you can confidently trade digital assets and grow your cryptocurrency portfolio.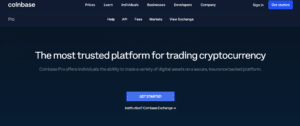 What Is Bittrex?
Bittrex is a well-established and reputable cryptocurrency exchange that allows you to trade various digital currencies. As a user, you can buy, sell, and trade a wide range of cryptocurrencies within the platform, making it an excellent choice for managing your digital assets.
Founded in 2014, Bittrex has been at the forefront of the cryptocurrency market by offering a secure and user-friendly experience for traders around the world. With its advanced technology and robust security features, you can be confident in the safety and stability of your transactions on the platform.
The exchange supports a wide variety of cryptocurrencies, allowing you to diversify your portfolio and explore numerous trading opportunities. Bittrex also offers advanced trading tools and features, such as detailed charts and various order types, to help you make informed decisions when trading your digital assets.
Bittrex is a reliable and secure cryptocurrency exchange where you can confidently trade and manage your digital currencies. By using this platform, you can take advantage of the numerous opportunities in the ever-evolving world of cryptocurrencies.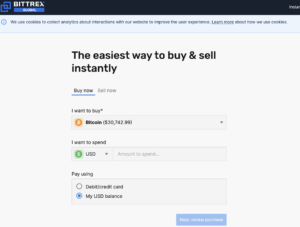 Why Might You Want to Transfer from GDAX to Bittrex?
There are a few reasons why you might want to transfer cryptocurrency, such as Bitcoin, from GDAX (now known as Coinbase Pro) to Bittrex. These two exchanges have different offerings, and transferring between them can provide certain advantages depending on your needs.
Accessing a wider range of cryptocurrencies: Bittrex offers a more extensive selection of cryptocurrencies compared to GDAX. If you're looking to diversify your portfolio or trade-in lesser-known altcoins, you may find more options on Bittrex. By transferring Bitcoin or other supported currencies from GDAX to Bittrex, you can potentially exploit different trading opportunities.
Leveraging different trading features: Bittrex is often considered more beginner-friendly than GDAX. If you're new to cryptocurrency trading, you might appreciate Bittrex's simpler user interface. On the other hand, GDAX is known for its more advanced trading tools, such as margin trading and order types. Depending on your trading strategy and level of expertise, transferring between these two exchanges may help access features suited to your needs.
To transfer Bitcoin from GDAX to Bittrex, you'll need your Bittrex wallet address, GDAX account number, and the amount of Bitcoin you want to transfer. Following the instructions on both platforms will enable a smooth transfer process.
Keep in mind that any transfer comes with inherent risks, especially when it comes to the security and trustworthiness of each platform. Before deciding to make any transfers, ensure you consider factors such as company trust, fund security, and customer support on both GDAX and Bittrex.
Step-By-Step Instructions
Create a Bittrex Account
First, you need to create a Bittrex account. To sign up, provide your email address and create a strong password. Take your time to read and understand the terms of service before agreeing to them.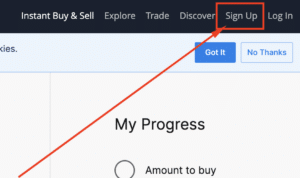 Verify Your Bittrex Account
To use Bittrex fully, you need to verify your account. Complete the identity verification process by providing the required documents and information. This process ensures the security of your account and the platform.
Log in to Your GDAX Account
Next, log in to your GDAX account. If you don't have one yet, sign up and link it to your existing Coinbase account. You'll need your email address and a strong password.
Go to the Accounts Page
Once you're logged in to your GDAX account, go to the "Accounts" page, where you'll find information about your different wallets, including your Bitcoin wallet.
Click on the Bitcoin Wallet
On your Accounts page, find the Bitcoin wallet, and click on it. This will open a new window with your Bitcoin balance and transaction history.
Click on the Send Button
To transfer Bitcoin from GDAX to Bittrex, click on the "Send" button in the Bitcoin wallet window. This will open a new page for sending Bitcoin.
Enter the Bittrex Address for Your Bitcoin Wallet
Now, log in to your Bittrex account, and go to your Bitcoin wallet. Copy your Bittrex Bitcoin wallet address and paste it into the "Recipient" field on the GDAX sending page.
Enter the Amount of Bitcoin You Want to Send
In the "Amount" field, specify the amount of Bitcoin you want to transfer from your GDAX account to your Bittrex wallet. Double-check your figures to avoid any errors.
Click on the Send Button
After verifying the Bittrex wallet address and the amount you're transferring, click on the "Send" button to initiate the Bitcoin transfer. It may take some time for the transfer to complete, depending on network activity and the number of required confirmations.
Tips and Tricks
Always double-check the recipient's wallet address to avoid sending your Bitcoin to the wrong person.
Keep track of transfer fees and adjust the amount you're sending accordingly.
Remember that transfer times may vary due to network activity and confirmation requirements. Be patient as your transfer completes.
The Pros and Cons of GDAX
When dealing with cryptocurrency, it's essential to choose the right platforms for your goals. In this case, let's consider transferring Bitcoin between two popular exchanges: GDAX and Bittrex. Here, we will discuss the pros and cons of each platform to help you make an informed decision.
GDAX Pros:
Low fees: GDAX offers competitive transaction fees, often making it an attractive option for transferring Bitcoin or other cryptocurrencies.
Fiat-to-cryptocurrency: GDAX is known for its fiat-to-cryptocurrency functionality and vice versa, making it convenient for users who wish to deal with both types of currencies.
Secure: Security is a top priority for GDAX, ensuring that your funds are protected in a highly secure environment.
GDAX Cons:
The Pros and Cons of Bittrex
Limited cryptocurrency selection: While GDAX has an impressive list of supported currencies, Bittrex offers a wider range of cryptocurrencies for trading.
Complex interface: GDAX has a more intricate interface that might not be ideal for beginners in the world of cryptocurrency trading.
Bittrex Pros:
Wide range of cryptocurrencies: Bittrex boasts an excellent cryptocurrency selection for trading, offering over 200+ options.
Easy interface: Bittrex features an easy-to-use interface that caters to both advanced and beginner traders alike.
Low fees: Bittrex has competitive transaction fees that make trading and transferring Bitcoin and other cryptocurrencies cost-effective.
Bittrex Cons:
No fiat-to-cryptocurrency option: Unlike GDAX, Bittrex does not offer fiat-to-cryptocurrency (and vice versa) trading, which may limit your options when it comes to transferring funds between different types of currencies.
Mediocre customer support: Bittrex's customer support can be challenging to deal with, especially when it comes to addressing any issues related to transfers or account management.
In summary, both GDAX and Bittrex have their own set of advantages and disadvantages when it comes to transferring Bitcoin or other cryptocurrencies. Carefully weigh the pros and cons of each platform to find the one that suits your needs best.
The Different Types of Cryptocurrency Transfers
When it comes to transferring cryptocurrencies, such as Bitcoin, there are a few different options to consider. Understanding each of these options will provide you with the necessary tools to make informed decisions when managing your digital assets.
Typically, there are three main types of transfers that you will encounter while dealing with cryptocurrencies:
Crypto-to-crypto transfers: These transfers involve exchanging one type of cryptocurrency for another, for example, trading Bitcoin for Ethereum. Most exchanges, including GDAX and Bittrex, offer this functionality, and you would generally use this method when you want to diversify your portfolio or take advantage of market fluctuations.

Crypto-to-fiat transfers: This type of transfer involves exchanging your cryptocurrency assets for traditional currency, such as US dollars or Euros. These are useful when you want to cash out your digital assets, either partially or completely. Some exchanges, like GDAX, do support crypto-to-fiat transfers, but not all of them do. It's essential to double-check your chosen exchange's capabilities before initiating this type of transfer.

Wallet-to-wallet transfers: These transfers are executed between two different cryptocurrency wallets that you own, or between your wallet and someone else's. They are the most common type of transfer when you need to move your assets from one platform to another, such as from GDAX to Bittrex.
Here's a brief description of each step you need to follow for a successful wallet-to-wallet transfer:
First, make sure that both wallets are compatible with the cryptocurrency you want to transfer (e.g., Bitcoin). If not, you may need to convert your assets to a compatible currency first.

Next, locate your receiving wallet's address. This is a unique string of letters and numbers that represent your wallet on the blockchain. Be cautious when copying and pasting this address, as any errors could result in your assets being permanently lost.

Once you have the wallet address, input it in the sending wallet's interface, along with the amount you want to transfer.

Confirm the transaction details, initiate the transfer, and wait for the transaction to complete. The completion time may vary depending on network congestion and the currency you're transferring.
By being aware of these different cryptocurrency transfer types and following the above steps, you can confidently and securely manage your digital assets.
How to Avoid Scams and Fraud When Transferring Cryptocurrency
When transferring cryptocurrency, such as Bitcoin, from GDAX to Bittrex, it's essential to safeguard your assets and avoid falling victim to scams and frauds. Here are a few ways to ensure security and protect your funds during the transfer process.
Firstly, double-check the wallet addresses before initiating a transfer. Sending cryptocurrency to an incorrect or malicious address could result in irreversible loss of your funds. Verify that the destination wallet address is correct and belongs to the intended recipient before confirming the transfer.
Using two-factor authentication (2FA) is another crucial security measure you should employ on both GDAX and Bittrex accounts. Enabling 2FA adds an extra layer of protection, as it requires not only your password but also a unique code generated on your device each time you log in or make a transaction.
Be cautious of phishing scams that trick you into visiting malicious sites impersonating legitimate exchanges or wallets. Attackers may then try to steal your login credentials or private keys. Always type the exchange's web address directly into your browser or bookmark trusted sites to avoid being misled by phishing attempts.
Additionally, it's important to keep your private keys and recovery phrases secure. Never share your private keys or recovery phrases with anyone, and avoid storing them on cloud-based services that could be hacked. If possible, use a hardware wallet for storing your cryptocurrencies, as they offer a high level of security.
In case you come across any suspicious emails or messages claiming to be from GDAX, Bittrex, or any other reputable platform, be skeptical and refrain from clicking on any links or downloading attachments. Instead, contact the platform's support team through their official channels to verify the communication's legitimacy.
By following these tips and maintaining a mindful and cautious approach, you can reduce the risks associated with cryptocurrency transfers, ensuring that your assets remain secure throughout the transfer process.
The Future of Cryptocurrency Exchanges
As you navigate the world of cryptocurrency exchanges, it's essential to consider how these platforms might evolve in the future. While it's impossible to predict every direction the market will take, some trends have become apparent, and understanding them can help you make informed decisions in your crypto journey.
One trend that's gaining momentum is the adoption of decentralized exchanges (DEXs). These platforms eliminate the need for a central authority that manages transactions, offering you increased security, privacy, and control over your funds. In the future, we can anticipate the expansion of DEXs, becoming an attractive alternative to traditional centralized exchanges like GDAX and Bittrex.
Additionally, regulation and compliance are becoming crucial aspects for cryptocurrency exchanges, as various governments are implementing more stringent rules and guidelines for these platforms. As a user, this means that in the future, you can expect more transparency and accountability from exchanges, ultimately increasing trust and confidence in the space.
Innovation in the range of services provided by cryptocurrency exchanges is also on the rise. With an ever-growing list of cryptocurrencies, exchanges are competing to offer more trading pairs and unique features like margin trading, derivatives trading, and even decentralized finance (DeFi) services. By staying informed about these developments, you can take advantage of new opportunities as they emerge.
User experience and interface design advancements are becoming a priority for exchange platforms. As more people enter the world of cryptocurrency, exchanges are striving to create more intuitive, user-friendly platforms that cater to a wide range of users, from beginners to seasoned traders. As the future unfolds, exchanges will likely focus on streamlining and enhancing the user experience to provide a seamless, efficient, and enjoyable trading environment.
Taking these factors into account, the future of cryptocurrency exchanges promises to be dynamic and ever-evolving. By staying informed and adaptable, you can ensure you're prepared to navigate the changes and make the most of your cryptocurrency investments.
Frequently Asked Questions
How do I withdraw from Bittrex?
To withdraw from Bittrex, log in to your account and click on "Holdings" in the top right corner. Then, search for the specific cryptocurrency you want to withdraw and click the "Withdraw" button. You'll need to provide the receiving address and the withdrawal amount. Double-check the details and click "Submit" to initiate the withdrawal. For more guidance, check out Bittrex Support.
What is the process for transferring crypto from Coinbase Pro to Bittrex?
Transferring cryptocurrency from Coinbase Pro (formerly GDAX) to Bittrex involves two steps. First, you need to withdraw your crypto from Coinbase Pro by selecting the specific currency and clicking "Withdraw." Enter your Bittrex wallet address and the amount you want to transfer. Then click "Submit." Upon receiving the crypto in your Bittrex wallet, you can trade or withdraw it as desired.
How to check Bittrex withdrawal status?
You can check the status of your Bittrex withdrawal by visiting the "Transaction History" page in your Bittrex account. Locate the specific withdrawal transaction, and you'll see its status, such as "Pending" or "Completed." Keep in mind that blockchain networks might have delays, so be patient if your withdrawal is taking longer than expected.
Can I transfer any cryptocurrency to Bittrex?
Bittrex supports a variety of cryptocurrencies for trading and withdrawals. However, before transferring any cryptocurrency, make sure that Bittrex supports it, and that you use the correct wallet address for that specific cryptocurrency. Sending an unsupported cryptocurrency or using the wrong wallet address might lead to loss of funds.
How to send Bitcoin from Coinbase Wallet to Bittrex?
To send Bitcoin from your Coinbase Wallet to Bittrex, log in to your Bittrex account to obtain your Bittrex Bitcoin wallet address. Next, open your Coinbase Wallet and select "Send." Enter your Bittrex Bitcoin wallet address, input the desired transfer amount, and click "Continue." Double-check the details before confirming the transaction.
What are Bittrex Credits and how do they work?
Bittrex Credits are incentive tokens awarded to eligible Bittrex users as a way to reduce trading fees. When using Bittrex Credits, each credit represents a one-dollar reduction in your trading fees. The credits are automatically applied to your trading fees as you make trades. However, please note that not all users receive Bittrex Credits, and the availability may vary based on platform promotions and eligibility criteria.