Cryptocurrencies have exploded in popularity in recent years, allowing tech-savvy investors to diversify their portfolios. However, picking the right platform is crucial to safely buying and trading digital assets. This comprehensive guide explores the best crypto exchanges in the UK for investors.
Summary:
In the United Kingdom, experts advise opting for exchanges regulated by the Financial Conduct Authority (FCA) for purchasing and trading Bitcoin and other cryptocurrencies. By utilizing bank transfers, Faster Payments, credit cards or debit cards to deposit British Pounds (GBP), individuals can legally buy, stake, and trade digital assets.
For novices embarking on their crypto ventures in the UK, we've assessed the top 5 trading platforms prevalent in the region:
Best Crypto Exchanges in the UK
Our analysis of over 15 cryptocurrency platforms has allowed us to identify the premier regulated exchanges for UK investors.
1. eToro
As a UK-based and FCA-regulated broker, eToro boasts over 30 million investors in the UK, Europe, and worldwide, making it the largest and safest platform to buy, sell, and trade digital assets in the country.
British investors highly favour eToro, thanks to its user-friendly and cost-effective GBP deposit options via Faster Payments Service, UK online banking services, Debit Card, and other popular methods. Furthermore, eToro offers competitive fees, with zero initial commissions and industry-leading spreads on assets.
Why we like it: eToro's FCA regulation, variety of assets, innovative trading features, and convenient GBP deposit methods make it the premier crypto exchange available to UK investors.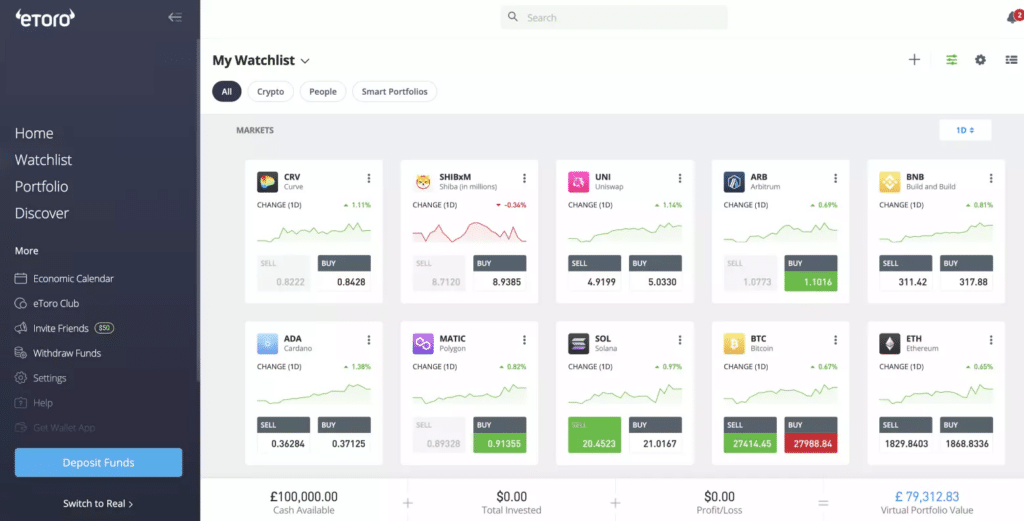 2. Uphold
Based in London, Uphold is the second-best cryptocurrency exchange in the UK, offering over 250 digital assets to buy, sell, and stake through their FCA regulated platform. As an alternative to eToro, Uphold enables quick and affordable GBP deposits via Bank Transfer, Faster Payments, Debit Card, and Credit Card.
We have ranked Uphold as the best alternative to eToro in the UK because they are among the few exchanges with an audited proof-of-reserves, which means they provide real-time data demonstrating how they protect customer funds and proving they are always fully backed 1:1. This level of transparency makes them one of the most secure and reliable exchanges in the nation.
Why we like it: Uphold's security-focused approach, convenient GBP funding options, and support for over 210 cryptocurrencies make it a top choice for UK crypto investors seeking an eToro alternative.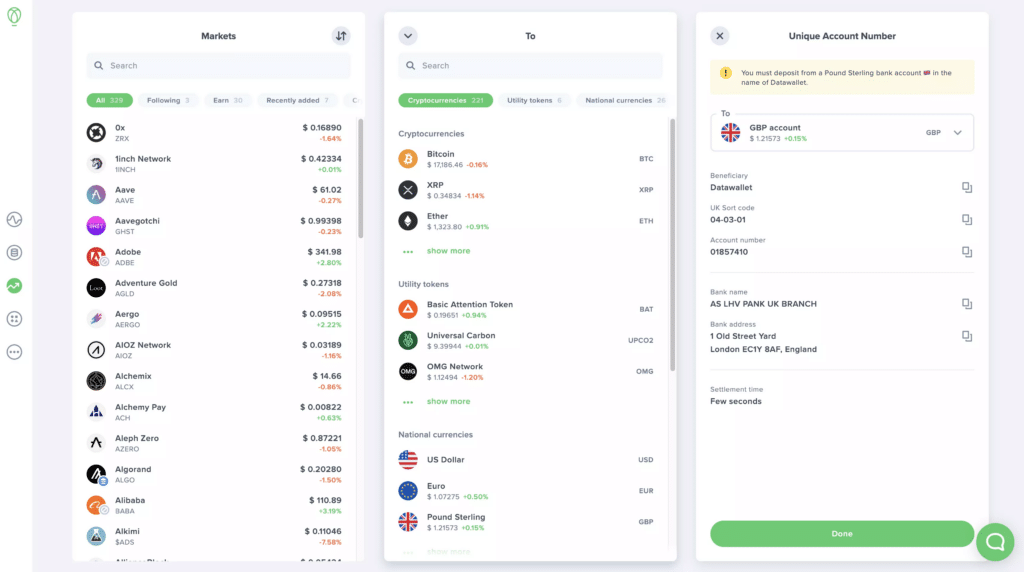 3. Kraken
In the competitive landscape of the UK's cryptocurrency arena, Kraken distinguishes itself as the third best exchange in the nation, catering proficiently to the diverse needs of the British market.
Kraken's commitment to superior user experience is reflected in its highly-rated mobile applications, available for download on both the App Store and Google Play. In the UK, customers appreciate the lucrative staking services the platform offers, presenting an opportunity to accrue up to 25% in annual rewards (APY).
Why we like it: Kraken delivers an excellent trading experience through its mobile apps, competitive fees, staking rewards, and support for an extensive selection of digital assets.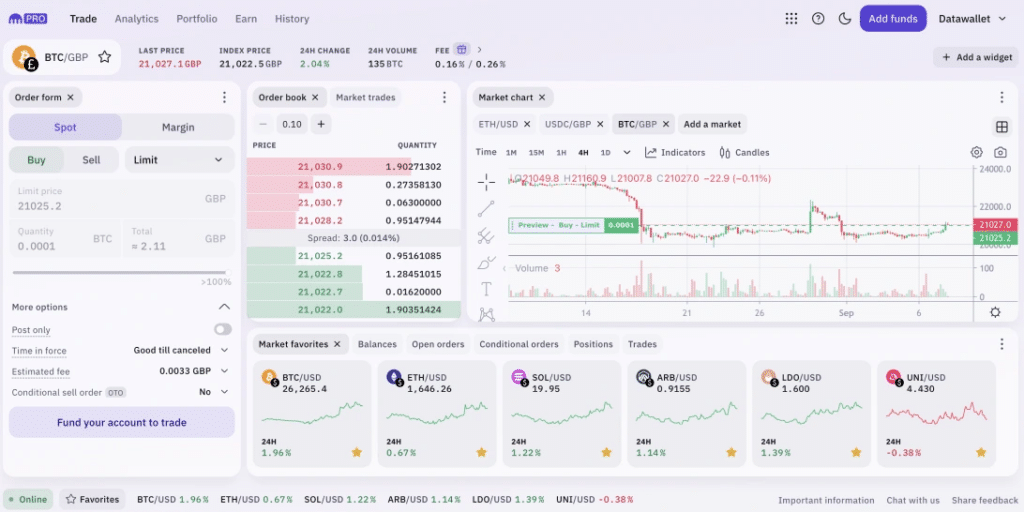 4. Gemini
When it comes to dependable crypto exchanges in the UK, Gemini stands out as one of the elite. It has gained recognition for its dedication to trust, safety, and transparent financial operations, all of which align with the FCA's guidelines.
Remarkably, Gemini was among the first exchanges to register with the FCA in August 2020, underscoring its commitment to compliance and security. The exchange caters to a wide range of users by offering a diverse portfolio of over 100 cryptocurrencies to trade and stake within the UK.
Why we like it: Gemini sets itself apart through early FCA registration, a focus on security and compliance, and support for a broad variety of digital assets – making it a leading institutional-grade exchange.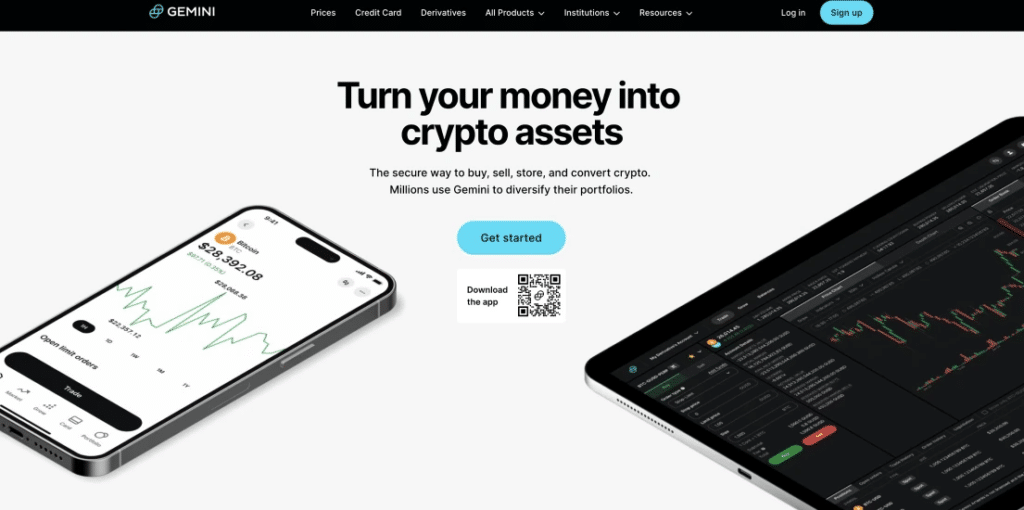 5. Binance
Ranked fifth among the preferred crypto exchanges in the UK, Binance commands attention for its exceptional liquidity, making it a go-to for large-scale trades. It boasts an unparalleled daily trading volume of around $5 billion, setting it apart not just in the UK but on a global scale.
Though Binance operates without FCA oversight and has faced warnings from the regulator, its deep liquidity and user-friendly interface make it a popular choice for UK crypto investors.
Why we like it: With some of the deepest liquidity in the industry, Binance offers fast trade execution and an easy-to-use platform that appeals to active crypto traders in the UK.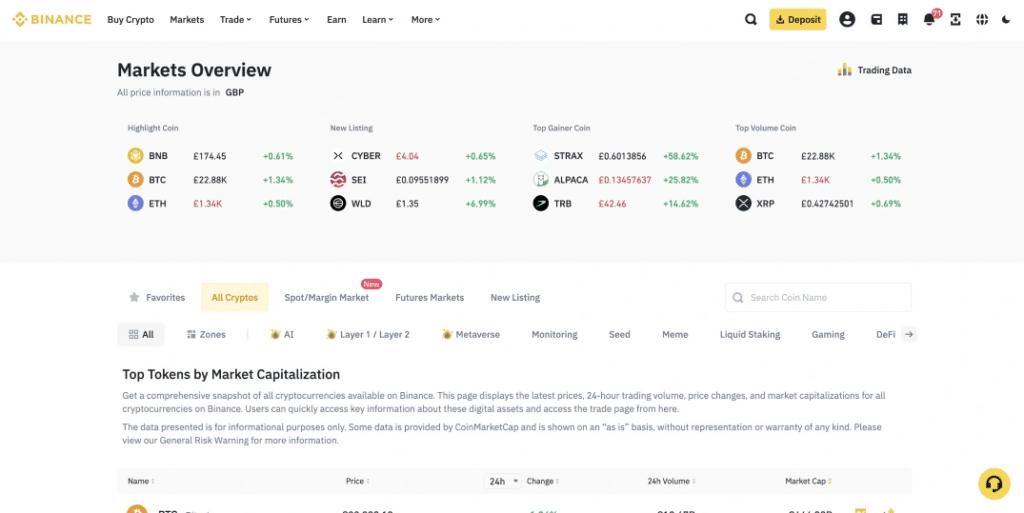 Is Cryptocurrency Legal in the United Kingdom?
Yes, it is legal to buy and sell cryptocurrency in the United Kingdom. There are no laws that specifically prohibit individuals from buying and selling cryptocurrency in the country.
However, cryptocurrencies are not considered legal tender in the UK, and the Financial Conduct Authority (FCA) has issued warnings about the risks of fraud and money laundering associated with crypto investing. Outside of these general warnings, it is fully legal for UK residents to buy, sell, and trade Bitcoin, Ethereum, and other digital currencies.
How is Cryptocurrency Taxed in the UK?
In the UK, cryptocurrency taxation varies based on the nature of the activities involved:
For cryptocurrencies held as investments, capital gains tax applies upon disposal, taxing profits and potentially offsetting losses.
Non-investment transactions, like purchasing goods/services with crypto, may incur value-added tax (VAT).
Income from cryptocurrency mining activities is subject to income tax as a trade or business.
As crypto taxation depends on individual circumstances, it's recommended to consult a tax professional or HMRC for tailored advice.
How to Purchase Cryptocurrency in the UK:
For beginners aiming to invest in digital currencies within the UK, adhere to this step-by-step guide for secure transactions:
Select a reliable exchange: Choose an FCA-approved platform, like eToro or Gemini.
Complete KYC: Provide your ID and proof of address to register and verify your account.
Deposit GBP:Fund your account via bank transfer, debit/credit card, or other methods.
Buy crypto: Select your preferred cryptocurrency and amount in GBP or crypto.
Protect your assets: Withdraw your crypto to a secure wallet for enhanced security.
Conclusion
By opting for a reputable, FCA-regulated exchange like eToro, UK residents can securely and legally buy, sell, and trade Bitcoin, Ethereum, and hundreds of other cryptocurrencies. While not legal tender, cryptocurrencies remain fully legal to own and invest in.
FAQs
Which crypto exchange is best in the UK?
Based on fees, regulation, asset support and more, eToro stands out as the best overall crypto exchange available to UK investors.
What is the most popular cryptocurrency in the UK?
Bitcoin remains the most widely held and traded digital asset among UK crypto investors and traders.